AUTUMN NAIL TRENDS FROM OUR EXPERT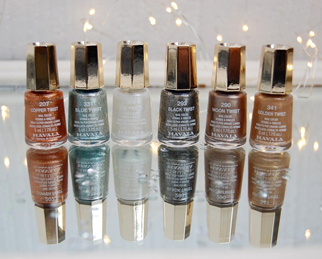 Soon enough the DIY summer manicure will be swapped for something a bit more seasonal. Our nail expert Lynn Gray shares her secrets on the top autumn nail trends to try. Each bursting with neutral shades and darker tones to get you through the blooming-beautiful time of year.
Lynn says: "Come autumn we're set to see creative spins on classic rich, deep shades that prove popular every year. We've already seen plenty of nail trends that are perfect for the upcoming season. From matte nails and patterns to match your woolly autumn jumper, to a fresh take on the classic French Mani that's come back into style. Here are three autumn nail trends to try that are guaranteed to make your nails pop this season!"
MATTE NAILS
That's right, the matte nail is back. Elegant and sleek, this look works on just about any colour, shape or length – it is incredibly versatile. Matte nails look great on the classic brown, navy and grey tones. But, I like to push the boat out with more non-traditional shades. My favourite matte colour is dark almond or a deep burgundy but you can use the Mavala Colour-Matte Top Coat to give that velvety finish to any colour you like! For this look, simply apply a basecoat, followed by two coats of your chosen colour, and finish with the matte topcoat.
SEASONAL FRENCH TIP MANI
Now that the French Tip look is back (and here to stay I hope), you can get creative with your timeless classic manicure. This summer we've seen clear nails with a coloured tip but this autumn, it's beige on beige. To achieve this look, following a basecoat, apply two layers of a light brown – I'd recommend our Versailles shade. Now for the part that's usually tricky. Tape down a Mavala Sticker Guide to the tip and paint over with a darker brown or golden tone, I love our Santiago shade. And voila, you have a seasonal French Tip Mani!
MIX AND MATCH ALTERNATING SHADES
This is the go-trend for those times when you can't choose just one autumnal shade. Instead, why not have a different colour on each nail? From pumpkin orange to glittery gold, this fun manicure means you can mash up all your favourite shades at once. The Mavala Autumn 2020 Collection is perfect to mix and match. But, if you can wait, our 2021 Collection is launching very soon so keep your eyes peeled!