Soothe cold weather hands with Mavala Care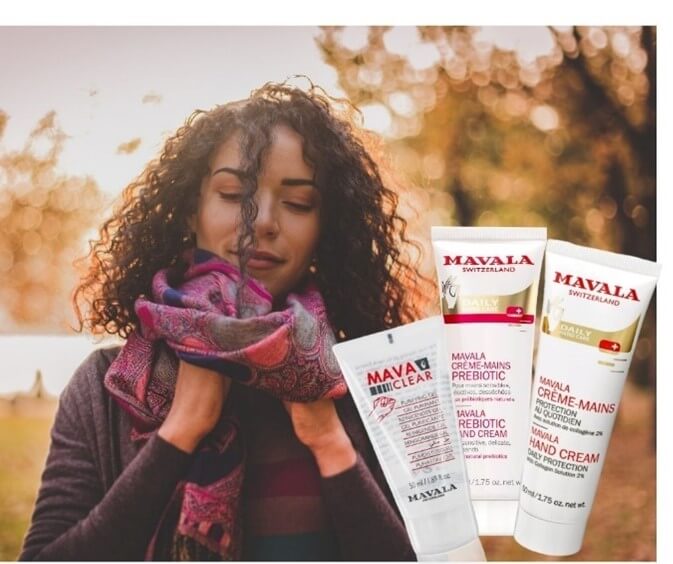 The skin on our hands can be very fragile, meaning they can dry out easily and become sensitised or sore. Add in the chilly and wet British weather, you've got a case of cold weather hands. This can increase dehydration and cause premature ageing of the skin.
We have always created products which care for the skin. Including out three hand creams that help soothe dry, damaged & cold weather hands. For those who want to protect their skin from these elements, read on!
NEW: PREBIOTIC HAND CREAM: Best for sensitive, sore hands
Our brand-new Prebiotic Hand Cream was formulated to help us flit between handwashing and antibacterial gels. Something that's become a strict routine leaving hands dry and chapped
It provides the necessary nutrients to maintain the balance and the microbiological activity of the skin. Thanks to its natural prebiotics (a combination of yogurt and inulin), it preserves the diversity of the natural skins microbiomes
It also contains an anti-drying glucidic complex, shea butter and cotton oils, which nourish and protect. Soothing tightness, reducing redness and bringing immediate comfort, our hand cream helps even the most delicate and sensitive of hands
Cold weather hands will be left supple, soft and perfectly hydrated with a strengthened skin barrier!
How to use: Apply a small amount to the hands and massage in, concentrating on any dry or reddened areas. Use as often as needed, especially after washing or disinfecting hands.
Price: £16.00 Available at leading pharmacies  
MAVALA HAND CREAM: Best for those looking for a hardworking hand cream for the winter
Ideal for dry skin and improving rough and red hands, this super light hand cream penetrates and hydrates skin
Leaving a non-sticky film, it continues to protect the cold weather hands from daily wear and tear
It contains a blend of moisturising marine collagen with allantoin, well known for its soothing properties
How to use: Massage hands with a small amount of cream, paying particular attention to the backs of the hands. You can also apply to the elbows and knees. Use after hand washing and before bed as an overnight mask.
Price: £15.45 Available at Fenwick and other leading department stores
MAVALA + HAND CREAM: Best for those with busy hands in need of added protection
Designed for those with super active hands. If you're a keen gardener, artist and outside sportsman, this one is for you!
MAVA+ gives comfort to dry or damaged hands, battling with cold, windy climates
The botanical complex contains patterson's curse, sunflower oil and heard seed to form a protective shield around the hands. The shea butter nourishes, while bisabolol works to soothe the skin and help it feel less tight
Fragrance free
How to use: Use as often as you wish; apply a small amount of cream on the back of your hand and generously massage, concentrating on very dry or irritated areas.
Price: £16.50 Available at Fenwick and other leading department stores
MAVA CLEAR: Travel sized hand sanitiser to keep hands protected on the go 
While we still need to regularly use hand sanitiser, MAVA-CLEAR is a no rinse cleansing gel. It purifies the skin while leaving a light, pleasant scent thanks to lemon extract!
How to use: Squeeze the gel into your palm and cover the entire surface of the hands. Rub hands together until the cream has soaked in. Do not rinse.
Price: £6.85 Available at John Lewis and other leading department stores