Mavala's Commuter Essentials Purse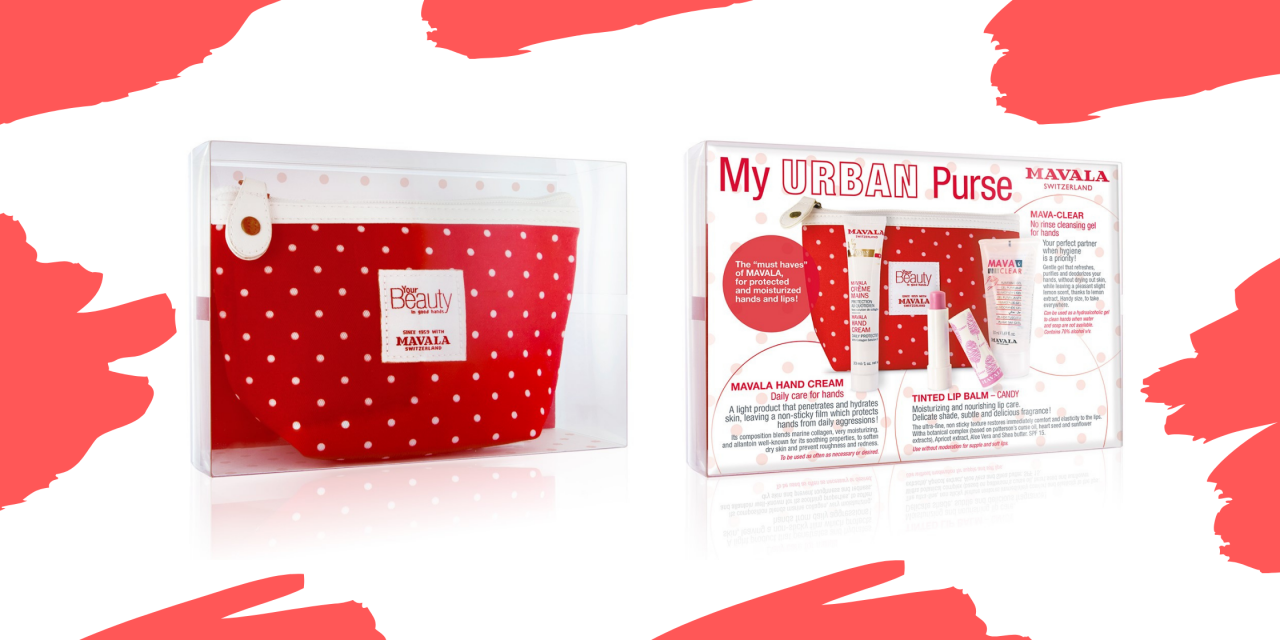 Did you know that the sales of hand sanitizer has increased by 255% during the Covid-19 pandemic?
As many of us return to work and settle back into our 'normal' routines, we're pleased to share the new Urban Purse from Mavala.
Helping to prioritise wellbeing, the red Polka Dot Cosmetics bag is equipped with your hygiene 'must-haves' needed for the upcoming season.
Providing protection and moisture for the hands and lips, the purse includes Hand Cream, Mava-Clear and a Candy Tinted Lip Balm. The perfect set for handbags, the kit is great for on-the-go and touch ups throughout the day.
What's Included:
On-the-hygiene is crucial, moreso now than ever, making Mava-Clear an essential item to carry in handbags. The no rinsing cleansing gel refreshes, purifies and deodorizes hands, without drying out skin. Infused with lemon extract, this leaves a pleasant slight lemon scent on the hands.
Providing on-the-go hygiene, the handy 50ml bottle is easy to take everywhere to clean cleans especially when water and soap are not available. The new formulation contains 70% alcohol, easily eliminating nasty germs effectively, along with a repackaged design of a squeezy tube for ease.
As the ultimate daily care go-to, the Hand Cream helps protect hands from daily aggressions. The light product penetrates and hydrates skin, leaving a non-sticky film to soothe hands. With the formula blending marine collagen, a moisturising property, with allantoin, well-known for its soothing properties, this helps to soften dry skin and prevent roughness and redness.
The 30ml tube is handy for comfort on-to-go and can be used as often as necessary or desired to relieve hands.
Focusing on providing lips with moisture and nourishment, the Candy Tinted Lip Balm adds an infusion of hydration. The delicate shade with a subtle and delicious fragrance will add a pop of a natural pink colour to any dry lips in the colder season.
The ultra-fine, non sticky texture restores immediate comfort and elasticity to the lips. With a botanical complex (based on patterson's curse oil, heart seed and sunflower extracts), Apricot extract, Aloe Vera and Shea butter, the balms are made to care for the skin. Containing SPF15, the balms are not only great for the colder months but will offer all year-round protection to UV rays.
Purchase the Urban Purse from leading pharmacies.