Mavala celebrates International Trainer Jenny Wiles Golden Jubilee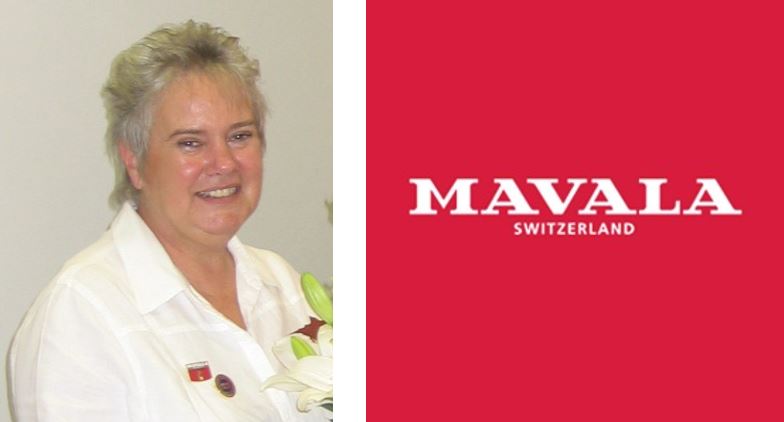 The Mavala UK team is delighted to be celebrating our own Jubilee this summer – the Golden Jubilee of Mavala Switzerland's International Trainer, Jenny Wiles, who has been with the company for fifty years!
Jenny first joined the Mavala UK team in 1972. She was tasked by our Swiss head office to run the Mavala beauty training school and host promotional nail clinics around the UK. Her career blossomed within the company and now Jenny is Mavala Switzerland's International trainer based in the UK, with a truly unparalleled knowledge of nails and skincare.
Jenny says that the Mavala team feel like family, which is one of the reasons she has stayed so long; "I like the fact that Mavala has a family ethos and I feel very much part of it. Mavala is one of the few companies that when people join, they want to stay forever!"
Jenny began working in the beauty industry straight from school, but at the time there was no formal training available in the UK. Jenny instead trained in France, concentrating on the latest technology for facial treatments and bringing back a wealth of new knowledge to the UK. She went on to work as a make-up artist at the BBC, which included training up new make-up artists – who would often get poached by ITV! Once Jenny joined Mavala she never looked back, embracing the brand's philosophy of 'care before beauty'.
Jenny is currently busy booking a trip to eastern European countries including Slovenia, Croatia and Bulgaria, where she will work and train with MAVALA distributors. She is also attending press events and pop up retail events. Jenny is also in the final stages of internal testing for new shades and formulation of foundations, as well as overseeing training for store consultants.
Q&A with Jenny Wiles:
What is the biggest change you've seen in the beauty industry?
One time beauty was regarded as superficial and fluffy, but now it's taken much more seriously – it is now so much more scientific and technical. What I know now compared to 50 years ago is incredible!
What is your number one beauty top tip using Mavala?
I think my best piece of advice is to focus on the client in front of you – give all of your attention to them, as everything should be for their benefit. Try and be the best representative that you can of your brand.
What is your favourite Mavala product?
The cuticle remover – put simply it does the job! You're not being aggressive or cutting or hurting the skin and it leaves a lovely contour, longer and neater.
For further press enquiries please contact: Alex Bridgwater or Stephanie Looker at The Spa PR Company
T. 020 7100 7018 | E. alex@thespaprcompany.com / stephanie@thespaprcompany.com
@spaprcompany
Notes to Editors:
Created in 1958 by Madelaine Van Landeghem and with the introduction of Scientifique K+ Nail Hardener which remains one its best-selling products to date, MAVALA is available globally in over 100 countries, with stockists ranging from small independent salons to large department stores.

Over the years MAVALA has become synonymous with quality thanks to its specific and effective professional standard and world leading products. With categories including, nail, hand, feet, face and make-up, all created from rigorous research and manufactured in the company's Geneva factories to impeccable quality demands.