Mavala Launches Nutri-Elixir Skincare Range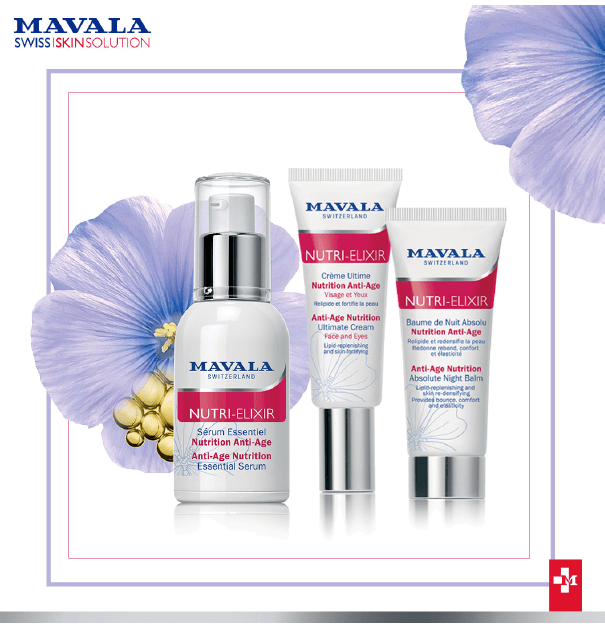 Mavala Adds to Its Results-Driven Swiss Skincare Line with the Introduction of Nutri-Elixir, a Targeted Lipid-Based Range
Harnessing the power of Swiss botanical science by creating a seamless fusion between Swiss alpine natural treasures and the science of cosmetology, Mavala's Swiss Skin Solutions skincare line is results-driven and targeted to specific skin types and concerns. To provide further targeted skin solutions, the award-winning Swiss brand has announced the launch of its new Nutri-Elixir Range which has been formulated to specifically target dryness and increase skin density.
Containing a patented pro-lipid booster to restructure the cutaneous barrier, the range is proven to transform the quality of the skin. Both intrinsic factors such as chronological ageing and extrinsic factors such as heat, exposure to UV rays and smoking are responsible for disrupting the hydrolipid balance of the skin which leads to very dry, fragile, tight and premature ageing skin. The new Nutri Elixir range contains key ingredients to specifically treat dry skin at its source.
Swiss Linseed Oil
Particularly rich on OMEGAS 3, 6 and 9 the Swiss Linseed Oil is gently cold pressed and filtered under gravity to re-moisturise the skin with nutri-protecting lipids
Patented Pro-Lipid Booster
The Patented Pro-Lipid Booster works to improve the three steps of lipid formation by stimulating the production of extra-cutaneous lipids by keratinocytes, synthesis and intracellular traffic. This results in boosting the natural lipid replenishment system in the skin.
Bioactivated Vegetal Oils Complex
The complex which contains almond, olive, linseed and borage oils to improve the skin's elasticity, smooth lines and wrinkles and replenish the skin. Its bioactivation means that it is bioavailable and penetrates into the skin's layers with ease.
Nutri Elixir Essential Serum RRP £36.75
This lipid replenishing and revitalising serum has a crystal-like consistency and provides density, glow and elasticity to the skin. Free from fragrance, parabens and mineral oils, the product is safe to use on the face and has been ophthalmologically tested for use around the eyes. For a deeper treatment, the Essential Serum can also be massaged into particularly dry areas of the skin and is ideal for taking care of the decollate.
Nutri Elixir Ultimate Cream RRP £27
This skin fortifying cream provides silkiness, glow and elasticity to the skin. Its rich formula is free from parabens and mineral oils and can be used on the face and eyes, day and night.
Nutri-Elixir Absolute Night Balm RRP £30
This lipid replenishing and re-densifying night balm provides bounce, comfort and elasticity to the skin. Its ultra-fine and light balmy texture means that the product can be used as a rinse-off mask for immediate comfort and plumping. Tested under dermatological control, the balm is free from parabens and mineral oils and safe to use on all skin types.